Food from Argyll at the Pier goes green /Link
Oban cafe ditches plastic and opts instead to use Vegware containers.
The post Food from Argyll at the Pier goes green appeared first on The Oban Times.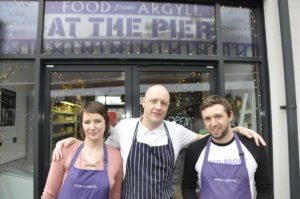 Leading the charge of new, more sustainable ways to package takeaway food and serve customers is Food from Argyll at the Pier Cafe.
Most of their takeaway food and drinks now come in eco-friendly containers.
Since opening in June 2016, the cafe has moved from using plastic to Vegware, a type of packaging made from plant material that is produced by a company based in Edinburgh. It is fully compostable and leaves a low carbon footprint.
Manager Claire Bruce told The Oban Times: 'I was quite surprised by the amount of products Vegware sells. It's not really any more expensive than plastic, so I don't understand why everyone's not using it.'
Food from Argyll plans to stop selling plastic water bottles completely and replace them with glass bottles. 'We try to operate a zero-waste policy. We waste very little food, as everything is made to order and we would like to continue that with our packaging.'
Claire emailed Argyll and Bute Council asking what its composting procedures were and has been told that there are unfortunately no 'community composting' facilities in the Oban area. All waste from Oban is now sent to Lingerton, Lochgilphead, as the landfill site at Moleigh, just outside Oban, is full and has been capped.
For the moment, Food from Argyll continues to send its waste to landfill, although there are hopes that if enough cafes and restaurants in the Oban area switch to eco-friendly products, there will be enough demand to open a community compost facility.
Plastic can take anywhere from 450 years to 1,000 years to degrade and is often mistaken for food by local wildlife, whereas Vegware will turn to soil in less than 12 weeks and can be composted alongside food waste.
This coincides with the recent #NaeStrawAtAw campaign which has seen school pupils pushing for a ban on plastic straws in cafes and restaurants.
The post Food from Argyll at the Pier goes green appeared first on The Oban Times.
(@)katietrafford
Published on 13 Feb 2018 at 02:38PM