'Jurassic Park' Science Consultant Says We're Really Close To Creating Real Dinosaurs /Link


Genetically engineering dinosaurs seemed like a far-fetched fantasy that was only possible in the Jurassic Park movies. But life…finds a way. At least, real-life science does. In an uncanny case of life imitating art, our world could start to look a lot like that in the upcoming Jurassic World: Fallen Kingdom. Jurassic Park's science consultant believes that […]
The post 'Jurassic Park' Science Consultant Says We're Really Close To Creating Real Dinosaurs appeared first on /Film.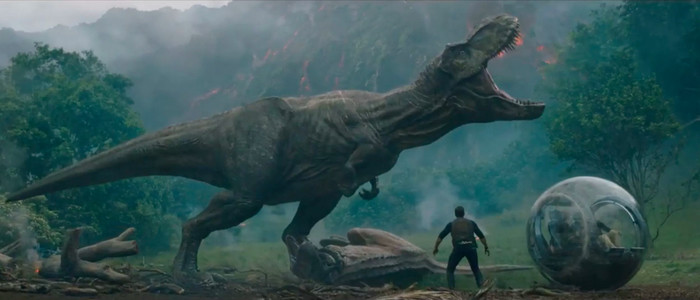 Genetically engineering dinosaurs seemed like a far-fetched fantasy that was only possible in the Jurassic Park movies. But life…finds a way. At least, real-life science does.
In an uncanny case of life imitating art, our world could start to look a lot like that in the upcoming Jurassic World: Fallen Kingdom. Jurassic Park's science consultant believes that today's scientists are on the cusp of a significant breakthrough to genetically engineer real dinosaurs. And oddly, it may be because of a plot twist in Jurassic World.
Dr. Jack Horner, who has served as the science consultant on all the Jurassic Park films and was the real-life inspiration for Jurassic Park's Dr. Alan Grant (played by Sam Neill), believes that scientists are just five years away from genetically engineering real dinosaurs. But unlike the process we saw in Jurassic Park where dinosaurs were engineered from ancient DNA found frozen in amber, today's scientists are taking a page from Jurassic World's book.
When Horner first started advising Steven Spielberg on the 1993 Jurassic Park film, Horner and his colleagues believed the most viable way to bring a dinosoaur back to life was by tapping into strands of ancient DNA, according to People Magazine. But later studies have ruled out that method, as DNA degrades over time. But it was Jurassic World's plot line that gave Horner the idea that best way to produce a dinosaur is by reversing evolution — through the chicken.
"Of course birds are dinosaurs," Horner told People, "so we just need to fix them so they look a little more like a dinosaur." He added that the main differences reside in the tails, arms and hands.
"Dinosaurs had long tails, arms, and hands – and through evolution they've lost their tails, and their arms and hands have turned into wings. Additionally, their whole snout has changed from the velociraptor-look to the bird-like beak morphology."
Naturally, these dinosaurs won't look like the scaly, reptilian dinosaurs we see in the movies — studies have shown that real-life dinosaurs actually had feathers — but it's strange to imagine a piece of livestock turning into a monstrous killing machine. But Horner's hypothesis is based on a real study — a group at Harvard and Yale "just recently, within the last few weeks, were able to transform the head of a bird back to actually reverse-engineer the bird's snout back into a dinosaur-like snout," Horner said.
The group is currently working on reverse-engineering the tail, which according to Horner, "is the biggest project." But Horner believes the wings and hands will soon be perfected. Horner has dubbed the creature the "Chickensoraus," and believes that it could become a reality in the next 5 to 10 years. It's a wild, scary thought — especially since we have an entire franchise dedicated to telling us how dangerous this is.
But at least this kind of answers that age-old question of whether the chicken or the egg came first.
The post 'Jurassic Park' Science Consultant Says We're Really Close To Creating Real Dinosaurs appeared first on /Film.
(@)Hoai-Tran Bui
Published on 18 Jun 2018 at 11:00PM