The Results Speak For Themselves at Orangetheory Fitness /Link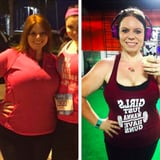 You've heard about it. You know that the bright colors and challenging workouts have members singing its praises while sweating their way to results. Maybe you've even thought about trying the majorly successful fitness franchise. But if you haven't given Orangetheory Fitness (OTF) and its hour-long, heart-rate-based HIIT workouts your physical attention yet, these impressive fitness transformations will push you through the door.
The extended fat burning of the OTF training principle has made it possible for members to actualize some pretty amazing results. Their stories and their before-and-after photos are not only inspiring but worth celebrating!
(@)Brandi Kupchella
Published on 17 May 2018 at 06:35PM